About Ireland
Ireland is a fun place to visit and there are a lot of reasons to travel there: the friendly people, the famous Irish craik, the historical locations, don't forget the world-class golf, or the top quality horse racing, great fishing, hillwalking or the many scenic drives.
As Ireland is easily accessible from Scotland or London, we will be pleased to assist you if you wish to extend your visit to see some of this fascinating country.
There are excellent air links with Ireland from London and several Scottish airports many of our clients enjoy a 2 centre vacation in both countries.
Choice
There is a great choice of quality country house hotels, castles, resorts and charming town centre hotels. Ireland is a big destination for clients of Scotland Tours as we have been arranging for clients to visit there for over 10 years. Tell us what style of vacation you would enjoy, and let us create an itinerary taking you to rather wonderful places, that will blow away the stresses of a busy life.
We offer self-drive tours or we can supply a driver with car, van or coach depending on the size of your group. Read on and imagine yourself in a quiet pub with a peaty fire, leaning against the bar with a pint of Guinness, gazing over the distant waves crashing against the shoreline, under a blue sky...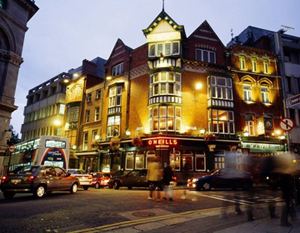 Ireland can be divided into 7 regions,
The Dublin area,

where you can enjoy some great sightseeing shopping and scenery. Dublin is a very flat city and easy to walk round although the traffic unfortunately is rather busy most of the time. However once you have made it downtown, you are likely to enjoy the lively atmosphere, the authentic pubs and restaurants, the excellent shopping and the many wonderful places of interest.



The South east.

Cork and Waterford areas are two fine cities, and there is a good choice of historical places, quiet coastal villages and beautiful drives to enjoy.



The South west with Killarney, Waterville, Tralee, magnificent Ring of Kerry and The Dingle Peninsula.

Think of rural Ireland with the horse drawn caravans, moors and dramatic cliffs and you will find them in this area. In addition, you can enjoy the lively town of Killarney nestling in the National Park. It is a popular area for visitors to enjoy the traditional ways of life.


As well as some fantastic scenery,

the West coast

includes the major towns of Limerick, (Shannon Airport) Galway and Sligo. This is probably the least populated area and the remote villages have that undisturbed feeling where life moves fairly quietly onwards. Plenty of peace and quiet in this area with wonderful walks and drives.


The North coast area starts in Donegal in the west and stretches over to Belfast in the east and it is home to the famous Giants Causeway – a world heritage site, and Bushmills Distillery. There are many beautiful areas to enjoy here and for the golfers reading this, there are some great championship golf and also many quality local courses that both residents and visitors alike enjoy.



The East coast

stretching from Belfast to Dublin completes our circumnavigation of the country. This is another charming area with the mountains of Mourne and the interesting town of Dundalk ready to welcome visitors.



The Midland areas

of Ireland also contain many treasures worthy of your time. The inland loughs and waterways are popular with people who wish to rent barges and cruisers and sail their way down the centre of the country. Great fishing, scenic walks and attractions like Tullynally Castle, containing a splendid interior and many works of art.
With Scotland Tours, you will have many opportunities to enjoy Ireland. The only trouble you will have is deciding what to leave out of your tour!
You will be made very welcome and you can take home with you many great memories of fantastic experiences that can only be obtained from visiting this memorable country.